Discover the latest products, promotions and special offers.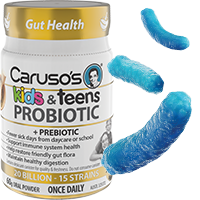 Caruso's Kids & Teens Probiotic
Caruso's Kids & Teens Probiotic contains 20 billion CFU of probiotics, plus a prebiotic fibre in each dose to provide support for immune system health and function, bowel regularity and digestive health in kids from 2 to 18 years of age.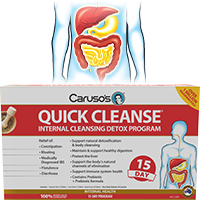 Caruso's Quick Cleanse Internal Detox Program is available as 7 Day and 15 Day kits. The Quick Cleanse combines 3 herbal tablet formulas and is complete with a once daily, high potency, multi-strain probiotic plus prebiotic formula.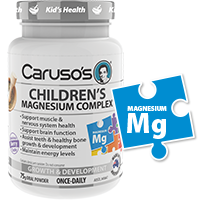 Caruso's Children's Magnesium Complex
A formula which contains three sources of magnesium, minerals and Vitamin C to help in the growth and development of your child.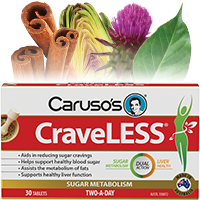 A 2-in-1, bi-layer tablet with key ingredients that support healthy liver function and glucose metabolism, and also helps to reduce sugar cravings.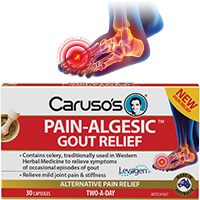 Caruso's Pain-Algesic™ Gout Relief
Caruso's Pain-Algesic Gout Relief is a unique formulation using Levagen+™, celery seed and vitamins to relieve symptoms of gout, mild arthritis and reduce pain and inflammation.
Caruso's Vitamin B1 is a one-a-day supplement designed to assist with the metabolism of carbohydrates and protein, provide support for nervous system function and to help maintain energy production.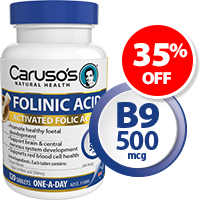 Caruso's Folinic Acid is a convenient one-a-day tablet that provides 500 micrograms of folinic acid. Folinic acid is a different form of folic acid which is responsible for many metabolic functions in the body, including those involved in the production of red blood cells and
healthy foetal development.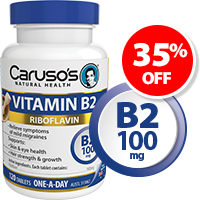 Caruso's Vitamin B2 is a one-a-day supplement designed to assist with the management of mild migraines, energy and metabolism and the maintenance of hair, skin and nails.